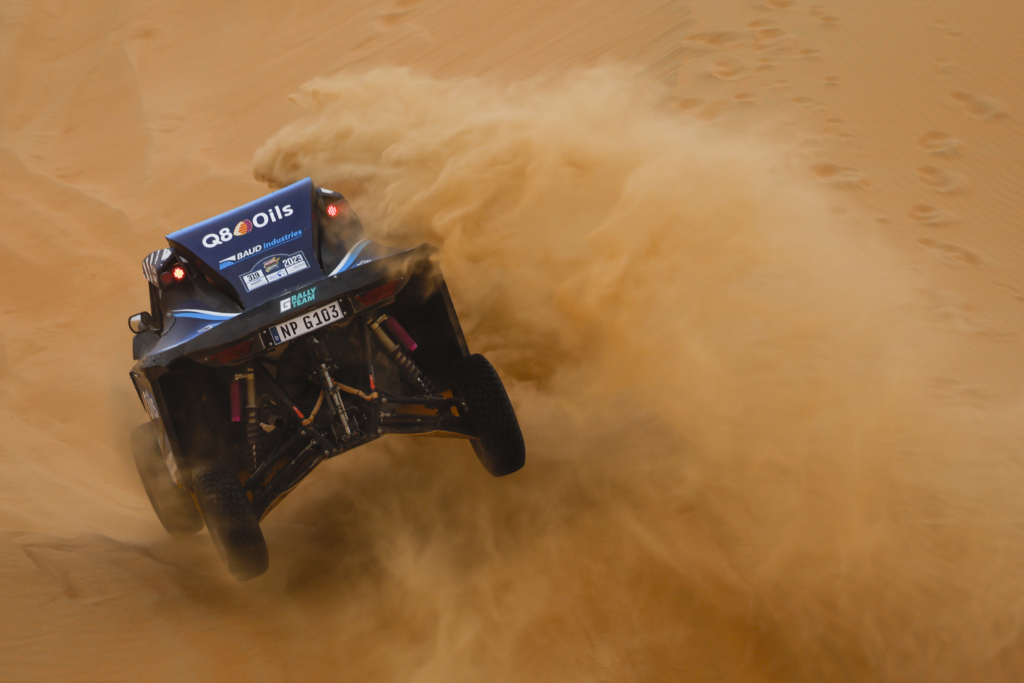 Abu Dhabi, UAE, March 1, 2023: This was yet another extremely tough, technical stage at the Abu Dhabi Desert Challenge (ADDC), and such was the intensity of this course that Nasser Al Attiyah damaged his car severely, and may be out of this year's ADDC. On top of that, at today's outset, 35% of the bike riders had failed to finish the first three stages, with two having retired from the event entirely. Under current regulations, stage retirees in Rally GP cannot return the next day, whereas the cars can, but with time penalties. Among the cars, so far 25% have failed to finish all the stages.
H.E. Aref Al Awani, General Secretary of Abu Dhabi Sports Council, said: "The race has been every bit as exciting and challenging as we hoped it would be, and it confirms our broader aim of making Abu Dhabi the perfect destination for sporting events featuring the world's best drivers and athletes. The Abu Dhabi Desert Challenge (ADDC) with its 32-year history, is firmly established as one of the world's foremost motorsport events, and we look forward to seeing how this year's edition develops over the final two stages. We wish to extend our thanks to all our partners for their efforts, hospitality and generosity, which have resulted in a unique race that all Emiratis can be proud of."
Abu Dhabi 360 Stage 3 started out with some steep and demanding dunes before heading into open desert for some seriously challenging ridge crossings. The going was very tough up to the Refuel Point at the Al Fathiyeh crossroads, where it went westward onto yet more demanding dunes, before heading into open desert and a series of ridge crossings. These are always hard to judge, but today were near impossible due to the cloudy sky which makes the crests of the dunes invisible. After that was the notoriously tricky slipface alley, followed by a run to the finish north of Hameem. The terrain was 52% dunes and 48% sand.
Yesterday afternoon we received a visit from FIA President and founder of the Abu Dhabi Desert Challenge, Mohammed Ben Sulayem, who commented on today's stage: "The stage was 230 kilometres in the dunes of the Empty Quarter, a historic place for all Emiratis. But 230 kilometres here is equal to 7 or 800 in the old version of the Dakar Rally, simply because of the considerable challenges of the terrain and the fatigue inflicted on the machines, the riders, the drivers and co-drivers, also the engineers and teams, and the whole organisation. Now that we have the new promoter, I'm optimistic that the ADDC will see real growth in its global profile, because having started it, I'm attached to it and want to see it grow. In the past the FIA was slow to accept new events, but now we will be making it much easier for new events to be included in the championship. That's partly down to the quality of modern manufacturing resulting in cars that can handle this level of challenge, but also the fact that having more championship events is appealing to manufacturers and to the countries that host them."
In unusually mild conditions with temperatures in the mid-20s, this was a stage that saw the T1 category and double stage winner Nasser Al Attiyah arrive at the finish line with severe damage to his Toyota Hilux, which had flipped over. Attiyah still scored the fastest time of the day and kept the lead of the race, but didn't talk to media and left immediately, with both driver and co-driver wearing goggles due to having lost their windscreen. His roll cage is badly damaged and unofficially it seems his race is done, but the team will work overnight to try to repair it,.. the suspense will continue until tomorrow's start. Sebastian Loeb was able to reduce the gap to 48 seconds, and non-championship driver Henk Lategan came home in third. Yazeed Al Rajhi, who finished second yesterday was fourth.
Emirates Motor Sports Organisation (EMSO) President and board member, H.E. Khalid Ben Sulayem, commented: "It was such an honour to receive his excellency Mohammed Ben Sulayem, FIA President and founder of the Abu Dhabi Desert Challenge at the race yesterday. We know what a very busy person he is and the fact that he found the time for us was a mark of his love of this event, and it made an already exceptional edition of the ADDC even better. I would also extend our gratitude to H.E. Aref Al Awani and the Abu Dhabi Sports Council for putting together The Abu Dhabi Team in line with their community support initiative."
In T3, Mattias Ekström, who had failed to complete the opening day's stage after running out of fuel, suffered a broken engine at PK66 and was unable to continue his attempt to claw back lost time. But it was a great day for the Red Bull Off-Road Junior Team USA who took the top 3 places. In T4 local hero Emirati Mansour Al Helei (Abu Dhabi Team) came second behind reigning world champion Rokas Baciuska (Red Bull Can-Am Factory), with the Lithuanian. winning by 4 minutes and 53 seconds. Pau Navarro (F N Speed) was in third.
In the bike RallyGP, Pablo Quintanilla was back to winning ways until a 2 minute speeding penalty saw him drop down to second, with Toby Price taking the win. Benavides was eighth today and Cornejo, Price, Branch and Howes, who were all placed in the Top 10, remain in the mix for a podium place. No big surprises in the Quad Bike category with Abdulaziz Ahli still leading ahead of Kancius and Guillioli.
A real thunderclap hit the W2RC today. Sébastien Loeb, who was already considered to be out of contention for the championship in round 2, could finally make a more positive move at the ADDC, if he makes it through the next two days. Although he will be out of the fight for the top spots in the race, the Frenchman will continue to collect points on a daily basis. Official Toyota Gazoo Racing driver Al Attiyah may have to retire, and if so, would not score any points in the second race. Guerlain Chicherit, third in the general standings, has already withdrawn, so it is the leading trio's pursuers who could take advantage of the situation to pull back some points. Al Attiyah had such a big lead that his withdrawal would completely revive the FIA championship.
Pablo Quintanilla admitted that he'd pushed hard all day: "I felt good and strong, the bike felt good, and when the bike feels like that it gives you a lot of confidence, so I pushed hard and it worked out pretty well."
Sebastian Loeb found the stage difficult : "Yeah, it was tricky, in some places it was really extreme and I hit my head (points to the left side of his head) . But I think it was okay, the stages are a bit different than what we saw in the Dakar, more twisty, slower in the dunes, so a little bit more difficult for me but the feeling was good."
Mansour Al Helei was happy with his day: "This was a very nice stage for us. We started immediately with an electric problem, and my car was slow but it fixed itself, then we went on and we floored it. I still don't know what our position is, but today I gave it my best. My navigator is new, but he's learning everyday and it's better and better, and we take care of the car."
The Abu Dhabi Desert Challenge is held under the patronage of H.H. Sheikh Hamdan Bin Zayed Al Nahyan, the Ruler's Representative Court in Al Dhafra Region; presented by the Abu Dhabi Sports Council; with the support of this year's Energy partner ADNOC Distribution; Automotive partner Al-Futtaim Toyota; Abu Dhabi Aviation; Al Ain Water; Governmental support from the Ministry of Defence & UAE Armed Forces , Abu Dhabi Police, Civil Defence, Abu Dhabi Distribution Co, Al Dhafra Region Municipality, and our media partner Abu Dhabi Sports TV.
T1 Stage 3
1. Nasser Al Attiyah 03:51:45
2. Sebastian Loeb +00:48
3. Henk Lategan +6:59
T3 Stage 3
Mitchell Guthrie 4:06:33
Cristina Gutierrez Herrero +0.19
Seth Quintero +3:03
T4 Stage 3
Rocas Baciuska 4:08:58
Mansour Al Helei +04.53
Pau Navarro +08.47
RallyGP Stage 3
Toby Price 03:43.29
Pablo Quintanilla + 00:16
Skyler Howes. + 00.19
Rally2 Stage 3
Paolo Lucci 03:51:22
Jean-Luc Lepan +06:37
Tobias Ebster + 08:37
Quad Stage 3
Abdulaziz Ahli 04:48:57
Laisvydas Kansius + 02:00
Rodolfo Guillioli +03:24:03