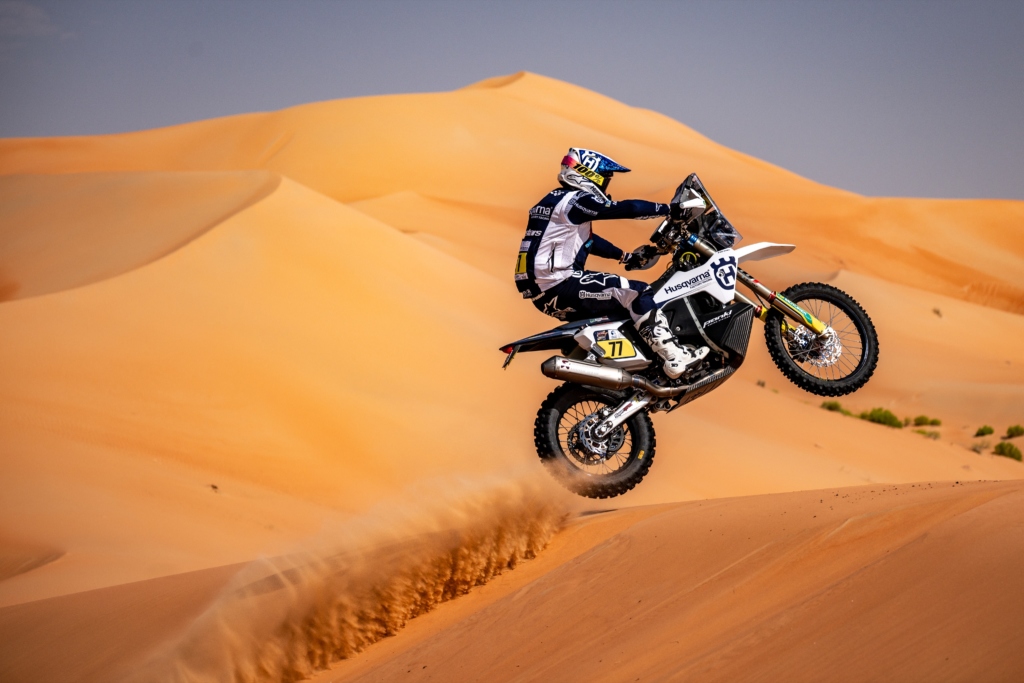 Abu Dhabi, UAE, 28 February, 2023: After yesterday's Hollywood blockbuster of a Leg, Day 2's ADNOC Distribution stage had a lot to live up to, with Monday a day that could be a turning point in the championship. Stage 2, which started in Madinat Zayed and finished in Um Al Zumoul Road, included a Special Stage of 257 kilometres with 108 kilometres of tarmac sections. After Sebastian Loeb's mechanical failure at PK 38 yesterday, he started the day in 11th place, while Guerlain Chicherit had to retire from the event after suffering severe motion sickness.
Bader Saeed Al Lamki, CEO, ADNOC Distribution, said: "Today's ADNOC Distribution stage is one of the most demanding. The challenges that the competitors are facing are extreme, and supporting their performance is a role that we gladly accept, and complements our strategy of being at the heart of all our customers' journeys and meeting their evolving energy needs. To be a part of Abu Dhabi Desert Challenge, and to have the opportunity again to showcase our commitment to sporting excellence, reinforces both our own and Abu Dhabi's reputation as a global hub for motorsport."
Today's stage started to the north of Liwa City and headed Southwest running along the valleys and ridges. The drivers and riders had to deal with occasional climbs mixed with dramatic descents as they approached the PC at the Ghiyathi Road underpass. They then went West into more demanding terrain where finding the line through the dune ranges is challenging, after that were a lot of extremely technical passages. The stage today finished very near the rally bivouac in Qasr Al Sarab, and was 47% dunes, 40% sand, 10% dry lake bed, and 3% tarmac.
Emirates Motor Sports Organisation (EMSO) President and board member, H.E. Khalid Ben Sulayem, commented: "Both stages could not have been more spectacular and have lived up to our highest expectations. The competitors are having to deal with nature at its most extreme, and I send my respects to all of them. I would also like to give my humble thanks to all involved for creating a sporting spectacle that is the equal of any major event in the world."
Under a scorching sun with a light wind, this was a truly epic stage with a variety of dunes and sand textures. In the T1 category, Henk Lategan, who stopped repeatedly at the beginning of the Special Stage, turned back and returned to the bivouac with a faulty turbo sensor, while yesterday's winner Nasser Al Attiyah took yet another stage win, with Yazeed Al Rajhi in second. "Today was a very difficult stage. Some parts of the track were really tough to navigate," said Al Attiyah. "We had two big impacts and my shoulder is not 100 per cent. But I am happy because we have finished and I am ready for tomorrow's challenge." In T3, Mattias Ekström, who had to withdraw from yesterday's stage after running out of fuel, won. The Swede took 5th place overall, 18'30" behind Al Attiyah. In T4 local hero Mansour Al Helei took the stage win.
In the bike RallyGP, factory rider Luciano Benavides took the stage with yesterday's winner Pablo Quintanilla dropping to 9th place. The win sees Benavides climbing to third in the overall race classification, and Quintanilla's ninth place still sees him in second, with Van Beveren ahead. The category is finely poised with Cornejo, Price, Branch and Howes also in the mix for a podium place.
This was his second-ever ADDC stage win following a first place in a stage of last year's race: "Of course, to win another stage is something really special, but the last week has been really tough for me with Kevin's accident – Kevin Benavides, Luciano's brother, was injured ahead of the event while training – plus hard training sessions, and many ups and downs. So to finally get another win and get my confidence back is something really nice. And this one is for Kevin!"
Today's ADNOC Distribution Stage was the first part of a Marathon Regime for the Moto category (bikes and quads). This allows no mechanical support or spare parts other than the ones carried by the rider, plus an obligatory stay in Parc Ferme overnight, meaning the riders cannot service their machine until the end of tomorrow's stage.
Monster Energy Honda Team's Pablo Quintanilla, Monday's winner, finished in ninth, 6'.55" behind Benavides: "I faced troubles in the morning, so I navigated very carefully. Other top riders were up for the challenge, but overall I did well and there were no issues with the bike. The day felt very long, and I am looking forward for tomorrow's challenge."
From a W2RC perspective, the second stage of the race saw the HRC bikes at the front of the overall standings. Four Hondas are placed in the Top 7 with VBA and Quintanilla in the first two places and Cornejo in 4th place, while Brabec in 7th, is only 5 minutes behind the leader. So nothing is decided in the bikes even if Honda is dominating the beginning of the race. On the other hand, in the cars, Nasser Al Attiyah has significantly increased his chances of a 4th victory in the ADDC. The Qatari won the stage as well as the 5 stage winner points that go with it. But Loeb, who pocketed 4 points for second place, as usual, would not give up.
The Abu Dhabi Desert Challenge is held under the patronage of H.H. Sheikh Hamdan Bin Zayed Al Nahyan, the Ruler's Representative Court in Al Dhafra Region; presented by the Abu Dhabi Sports Council; with the support of this year's Energy partner ADNOC Distribution; Automotive partner Al-Futtaim Toyota; Abu Dhabi Aviation; Al Ain Water; Governmental support from the Ministry of Defence & UAE Armed Forces , Abu Dhabi Police, Civil Defence, Abu Dhabi Distribution Co, Al Dhafra Region Municipality, and our media partner Abu Dhabi Sports TV.
T1 Stage 2
1. Nasser Al Attiyah 3:33:39
2. Yazeed Al Rajhi +12:14
3. Martin Prokop +14:55
T3 Stage 2
Mattias Ekstrom 03:52:09
Seth Quintero + 02:41
Austin Jones +04:34
T4 Stage 2
Mansour Al Helei 03.58.22
Rocas Baciuska +05.47
Pau Navarro +09.44
RallyGP Stage 2
Luciano Benavides 03:24:50
Nacho Cornejo +01.17
Skyler Howes + 01.44
Rally2 Stage 2
Paolo Lucci 3:35:06
Tobias Ebster +08:23
Jean-Luc Lepan +13:22
Quad Stage 2
Laisvydas Kansius 04:21:45
Abdulaziz Ahli +01:55
Rodolfo Guillioli +32:12